A couple of years back i fell seriously ill and did the rounds of doctors and hospitals for a good period of time. The confusing maze of doctors, hospitals, specialists, affiliations, diagnostic centres, medicines, and the quest to be fit and fine again. In this quest to live a "normal" life again, any human would go to any extent.
I was lucky that i was based out of Mumbai then, and luckier to have come across the right set of people. But we all know of countless other people who don't get so lucky. In this quest of getting back to "normalcy" the entire family ends up losing everything!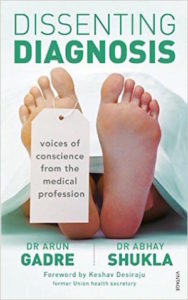 This is a wonderful book written by an accomplished doctor. Thoroughly researched and lucidly written, this book leaves a mark to expose the rut that lies in the medical profession in the country. Right from the Medical colleges (or should it rather be the medical entrance coaching centres) to the Corporate medical centres of excellence, the entire system is heavily lubricated with huge amounts of money.
The book is based on conversation with 78 doctors who let us into their world of corruption and the disease that has spread in the medical profession in the country. The cut system is explained in detail. From the Diagnostic centre to the big pharma companies, everyone is a part of this "Cut system". I am sure even the autowallah who gets innocent patients from the railway stations to the hospital in the city has his cut system with the hospital. No one is spared and quite obviously so. With so many billions of rupees exchanging hands everyday without any questioning whatsoever, it is a ripe field for anyone out there to make a quick buck.
The book also talks briefly about the menace of quacks (sometimes those with BAMS degrees passing of as allopathy doctors and many a times a random person administering life threatening medicines to the innocent upcountry patient). This needs strict regulations and the pharmacies should be brought to task for issuing a prescription medicine without a proper one.
In the last section of the book, the authors do dwell on ways to reform the industry and share the best practises from across the world. A national insurance scheme for every citizen of the country would go a long way in improving the living standards. I personally think it is more a matter of will than possibility. The medical council of India is a well accepted body, and MCI in conjunction with the government can very well be successful in cleansing the society of this malaise.
Healthcare is a fundamental right of every citizen and we have enough and more health care professionals to administer the same. It all boils down to the will of the people in power.