Paul Kalanithi was a 36 years old Man, on the verge of completing his decade long training to be a nuero surgeon. He was on the cusp of a bright life ahead with a promising future and disaster strikes. He is diagnosed with Stage IV lung cancer. A doctor living to treat the dying is now on the other side – a patient, dying to live. This is his story.
Life in the time of death. How do you handle it? How do you look forward to life when you know it is going to end soon? How do you face life with an imminent threat looming in the anvils?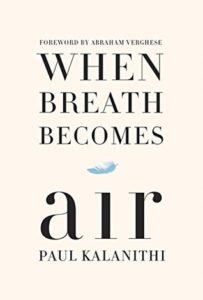 I came across this book on a portal and the topic immediately intrigued me. I knew i had to read it and it was on my kindle before i knew it. The first part – the epilogue by Abraham Verghese introduces us to the author. Though Verghese claims he did not know Paul well before this, he does manage to put up a decent show introducing him to us.
The main book lies in the innocence of Dr. Paul and his candour in accepting the way it is. He had worked hard and meticulously planned his entire life and he was very much there. Cancer is the big dampener it always has been and it is no different here. Just when you start believing this is going to be a story about death, you start realising it is a story on life.
Right from the moment when Paul discovers at his friends place that something is wrong in his body, the writer in him is out. After a brief setback, he springs back and takes control. His special bond with his oncologist where you visibly see the desperation in Paul's words where he questions the entire episode. His last episode.
Lucy, Paul's wife (i hate calling her a widow. For her, and for all who care, Paul lives. He lives in our memory and the countless people he would inspire to live) writes the end part of the book and she comes out a natural writer. The words are straight from her Heart, about a guy who knew how to live.
A short read and a must. Be warned, you might have tears in your eyes just like i did.