I like reading, and biographies/ Autobiographies are one of my favorite genre.
Last year, sometime in October, I laid my hands on "STEVE JOBS", by Walter Issacson, but like every other book, it was just gathering dust on my rather overcrowded desk.
Looking at the massive book itself, intimidated me. 800 odd Pages! I need to prepare myself to read this I thought. This is going to take time.
June first week, my eyes fell on this book, and I just could not hold the temptation to read it full. So what if it weighs a ton, and so what if it appears to be a massive brick. I am going to read it. And wait, if I get bogged down by the size of the book, I can always read it digitally.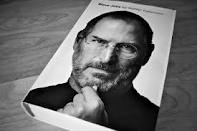 Starting from Jobs birth, and adoption, his young years, Hippie teenager days, Play with electronics, Founding Apple with Wozniac, Apple 1, Apple II, Macintosh, Ouster from Apple, Next, Pixar, back to Apple, Digital revolution, iPod, iTunes, iPhone, iPad and iCloud and Cancer.
56 years of illustrious life.
One thing that was truly remarkable about Jobs, and very well captured by the author in various instances, is the reality distortion theory.
"The reality distortion field was a confounding mélange of a charismatic rhetorical style, indomitable will, and eagerness to bend any fact to fit the purpose at hand"
The author is at his best not when probing Jobs' personal psyche, but when describing his rather grandeur vision for Apple. "Simplify", "friendly," "intuitive," and "seamless", these were not options, but the core necessity of any Apple product. Steve Jobs was more of a design and creative guy than an engineer. He did not do much on the technical side, but was micro involved in the look and feel of the product.
For Jobs, design was not surface or facade, but a penetrating, complete aesthetic: one that expressed the very essence of the product at hand. As would befit this totalizing view, Jobs was deeply concerned with the appearance of the inside of his products. Interiors that few customers would ever see( Jobs used specialized screws unresponsive to commercially available tools, Jobs ensured that the case does not open to anyone)
Open and closed is another war that Steve fought with complete passion till his end. First it was Microsoft, and then it was Google. Steve always believed that hardware and Software should be totally integrated, and should be kept in a closed vault, to give the user a seamless experience. While, the other camp believed in making it more open, and allowing it to be run on various platforms, and different machines. Each of the approaches had their own pros and cons, and each worked for the one who was making it.
Jobs always believed that the aesthetic, the technical, and the corporate were seamlessly joined. As Jobs affirmed at the iPad's 2010 unveiling, "technology alone is not enough": "it's technology married with the humanities that yields us the results that make our heart sing."
Many a times, while reading the book, Mark Zucherberg seemed so much like Jobs. A rebel, anti-establishment, and embodiment of all the values that Jobs lived for. So, is the desktop war of 80-90's between Jobs and Gates, moved to the network, between Google and Facebook. Wait and Watch, the story just seems to be repeating itslf.
Coming back to Jobs, his design successes are legendary, but he was no Einstein. Rather than inventing outright, Jobs capitalized on the innovations of others, manufacturing not only products, but desire and obsolescence.
Jobs Legacy would be established, looking at how Apple would turn out eventually. How would it fare, without him at the helm. Whether he has been successful at building a company that lasts, or a company that depends on one person, still remains to be seen.
But one this, the guy was a visionary, and thought  much ahead of anyone else, and beautifully with the liberal arts, and created an irresistible desire for his products.
(Trivia: Ended up reading the major part of the book on my IPAD2, and to say the least, it could not have been better. My first book on the IPAD, and it is about the person who made it!)