The Corner Office. One term, one aim, one place that every ambitious working professional aspires to get to. What does it take to get there? Hard work, perseverance, smart brains, people skills, blah.. blah.. blah! A lot has been written on this – "What it takes to become a CeO?". This is not a book on that. This is a fictional story of the race to the corner office amongst five individuals who join a company together as fresh bright management graduates.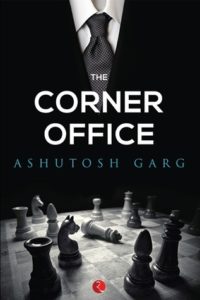 The story begins off well with the right character building of each of the five individuals with a brief history and a glimpse of how did they get to join this huge end to end corporation with varied business interests (reminds you of TATA? or ITC?).
Five different individuals start at the same point and come across different circumstances in their lives leading to different paths all leading with the same aim – to occupy the corner office. The demon in each of their closets and the way life deals with them forms the crux of this story.
Though the book begins well and you start relating with the characters, and the story also is kept quite pacy, the format of the book somewhere lets you down. It is too plain jane and straight to keep one interested. A phase in life and five individual chapters detailing each characters life in that phase. With very limited intertwining and interactions between the different characters it seems like five individual stories brought together into one, king it very predictable.
All through the book you get a feel that there is a larger message to be conveyed and you keep looking for it. The story even lingers in your head a couple of days after you have finished reading it, but alas! the message is lost somewhere. Or maybe, there was no message and this is just supposed to be a plain simple story of five individuals.
Overall, a quick read to get a not so authentic peek into what goes on behind that charming well manicured corporate face.